May 28, 2015
Rain doesn't stop Cook's Memorial Day remembrance ceremonies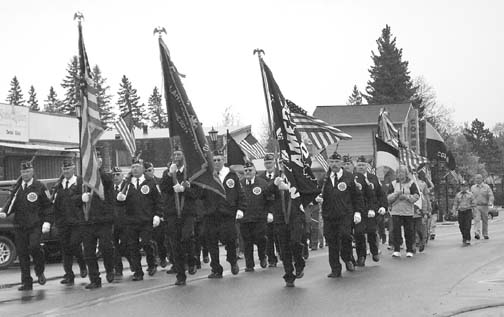 The Cook VFW Post 1757 and Auxiliary led the parade down River Street to the bridge over the Littlefork River. Despite the rain, there were crowds along the parade route wanting to be part of this special event on Memorial Day. More Memorial Day photos on page 6
The rains came down, but they couldn't stop this special ceremony. We remember those who have died to give us our freedoms and way of life. We remember all veterans who have left home to defend this country.
There was a moment of silence to remember deceased servicemen.
Memorial Day is a day to remember and not forget our past. It is a day to honor those who have made the ultimate sacrifice. They will always be remembered.
---
Suspects in custody after burglary at Hill Biomass plant
On Sunday, May 24, at around 11 p.m., the St. Louis County Sheriff's Office responded to a burglary in progress at the Hill Biomass plant in Angora Township on Highway 53 south of Cook.
Upon arrival deputies surrounded the building and one suspect exited the building where he was confronted by deputies. He fled back into the building and within seconds he and another suspect fled out of the building from a back door. One suspect was apprehended after a short foot chase. The other was tracked by the Sheriff's Office K-9 Louie where he was apprehended a short time later hiding near a large drainage ditch.
Both suspects, Neil Koskovich, 41, of Duluth, and Robert Yernatich, 46, of Tower, are in custody and face burglary and obstructing charges.
---
Memorial Day, not just another day off work, a day to remember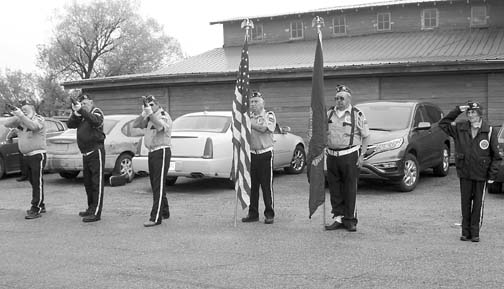 The Orr American Legion Post 480 Honor Guard shot three rounds in honor of our veterans while Legion Member Tony Chos played "Taps" on the bugle.
by GDA
Pastor James Rockensock said the verse, "Greater love has no one than this: than to lay down one's life for a friend." He thanked God for the many men and women who have laid down their lives for us.
He said, "Memorial Day honors our service men and women." He said there were also those not in uniform who held steel drives, rubber drives, worked in shipyards, and as welders who served this nation in time of war and they should not be forgotten. He said, "We are indebted to them." He spoke for the great strength of this country: our mothers. He added that we have a "wonderful, wonderful heritage."
After Orr Mayor Joel Astleford led the audience at the Orr American Legion Post 480 in singing "America, The Beautiful" and "God Bless America," the ceremony went outside on Monday at the services that started at 10 a.m., for the laying of the wreath on the waters of Pelican Lake in honor and remembrance of those who died at sea. The Honor Guard fired a salute to close this special ceremony on this special day that we should never forget.
Say "Thanks" to those who have given us so much.
---
Pick up this week's paper for more stories and pictures...
Congratulations, North Woods Class of 2015

The dock that David & Vikki built is the scene of their wedding on Lake Vermilion

Cook Lions' new Coupon Books on sale

Letters to the Editor ...